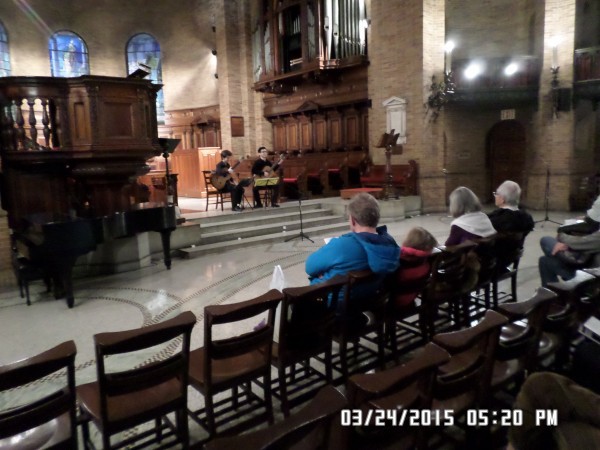 Music at St. Paul's featuring the Columbia Guitar Duo
Tuesday, March 24th 2015
The Columbia Guitar Duo (Kevin Choi, CC '17 & Javier Llaca, CC '16) was established in 2014 and is currently coached by maestros Arthur Kampela and Marco Cappelli. They have recently been invited to perform at Harvard University, Carnegie Hall, and WKCR New York. Incorporating a wide range of works in their programs, their goal is to further the presence of the classical guitar in modern concert settings.
 The duo's performance, A Five-Course Meal: From Lute Music in the Renaissance to Tango in the 21st Century, served up a delicious assortment of musical sustenance. Music at St. Paul's was proud to host such talented, professional members of the Columbia community.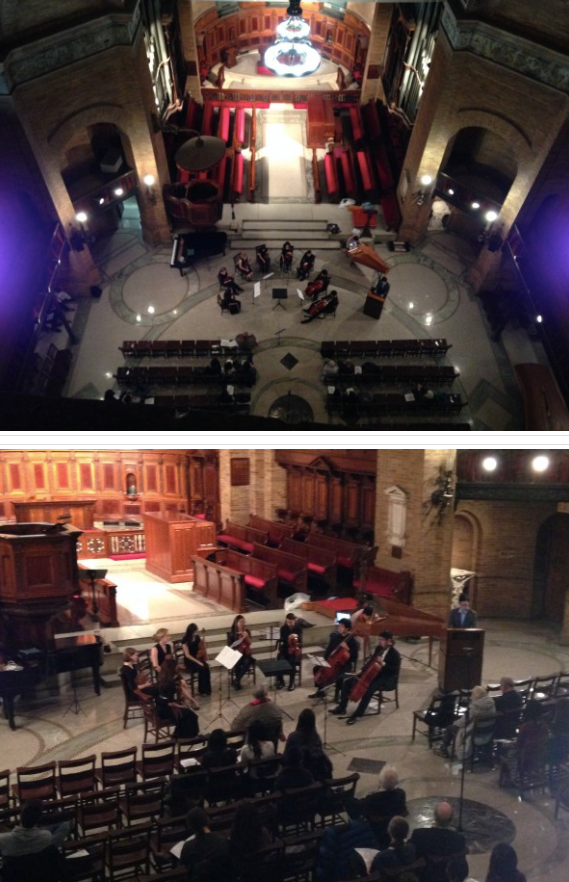 Music at St. Paul's featuring the Columbia University Bach Society
"Reflecting on Betrayal: Bach's St. Matthew Passion"
Tuesday, March 3rd 2015
On Tuesday, March 3rd, the Columbia University Bach Society presented a combination concert and lecture structured around J.S. Bach's sacred oratorio St. Matthew Passion. Led by Kevin Lee, the Bach Society's Artistic Director, the performance applied Columbia's resident intellectual curiosity to one of Bach's most powerful works in the truly fitting setting of St. Paul's Chapel.
Music at St. Paul's featuring Roy Jennings, piano & Marvin Lowe, bass-baritone
Tuesday, February 10th 2015
On Tuesday, February 10th, an enthusiastic crowd gathered to welcome Roy Jennings and Marvin Lowe for their special Black History Month celebratory performance of African-American Spirituals. The program, which included works of Margaret Bonds and Mr. Jennings himself, resonated throughout St. Paul's Chapel to the great delight of the nearly 200 guests. After a standing ovation, Mr. Lowe revealed to the audience that it was Mr. Jennings birthday and led the entire audience in an impressive rendition of "Happy Birthday." The Office of the University Chaplain would like to express profound thanks to both performers as well as the wonderful audience. We hope to see you at future performances!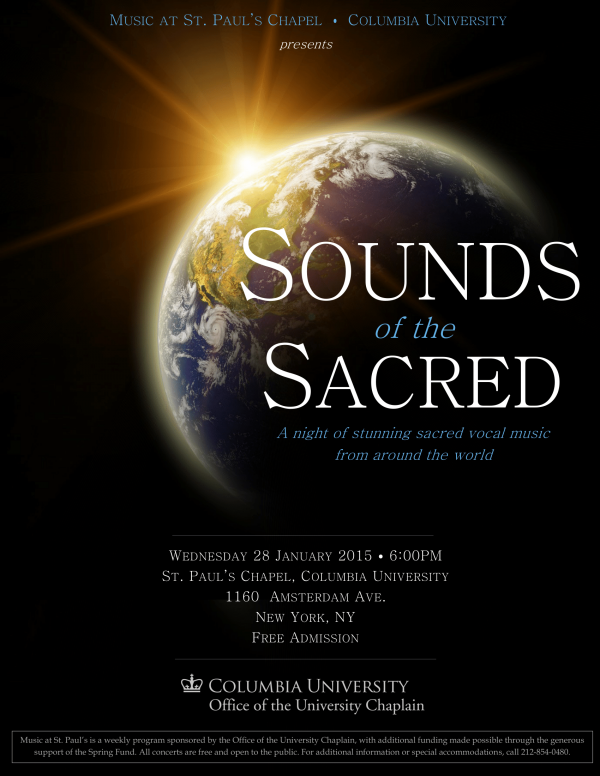 Sounds of the Sacred
Wednesday, January 28th 2018