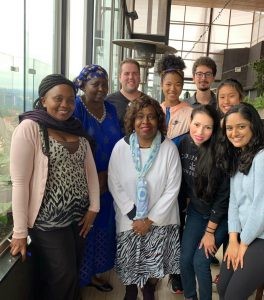 The Office of the University Chaplain's Kraft Global Fellows Program is an initiative of the Kraft Family Fund for Intercultural and Interfaith Awareness. At designated academic breaks, the Kraft Global Fellows Program will support up to six students to travel to one of the Columbia Global Centers (CGC) as a team to conduct research for a particular set of questions or inquiries. Chaplain Davis is the Program Director and is present for all events and meetings.
---
To learn more on how to apply for the Kraft Global Fellowship see the information below. 
Update on the Kraft Global Fellows Program 2020
Due to our current times, the Office of the University Chaplain has decided that the Kraft Global Fellowship program will be suspended until December 2020.
As we follow university guidelines and public health policy, all travel, either domestically or internationally, will be suspended. 
See the link for Columbia University's policy on travel. 

Please continue to check our website for any updates related to the Kraft Global Fellows program. 

Thank you. 
Students must be currently registered as full-time Columbia University undergraduate or graduate students.
Online, Part-time, or students at affiliated institutions cannot be considered for the Kraft Global Fellows Program. 
(Affiliated institutions (e.g. Barnard College, Union Theological Seminar and Teachers College) cannot be considered for the Kraft Global Fellows Program.)
Letter of Intent should detail your interest in the Kraft Global Fellows Program group research trip. Include a demonstrated interest in religion or interfaith understanding. 
Include the following materials for your application. 
Letter of Intent
Updated resume
A current list of student activities and leadership roles at Columbia University
Official transcript (Electronically)
(Please refer to the Office of the University Registrar for a copy)
Copy of your passport
Writing sample (Sample can be any past written work) 
Two letters of recommendation – at least one from your academic advisor and/or a faculty member
When submitting please name all files with your first and last name. Submit all application materials to Elmer Barcenes at eb3334@columbia.edu 
Please send these materials and any questions to Elmer Barcenes to Eb3334@columbia.edu.
Students are required to interview with Chaplain Davis and the KGF advisory group to discuss their interests in this group project. 
Only students that have submitted All of the requested materials by the deadline will be considered. No exceptions.
Only students selected for interviews will be contacted.
Check frequently for deadline submission dates. More information to follow. 
If you have questions about this program or wish to know more about upcoming Kraft Global Fellow deadlines, please send an email to eb3334@columbia.edu.